Nowhere by Peter Monsaert opens the Ostend Film Festival: "Unprecedented performance by Koen De Bouw in perhaps his most vulnerable role ever".
The fourteenth edition of the Ostend Film Festival (FFO) opens this year with the new film by Peter Monsaert (Offline, Le Ciel Flamand). Nowhere sketches a layered portrait with moving characters, about connection, hope and family roots. Our Master Koen De Bouw plays perhaps his most vulnerable role ever, alongside young talent Noa Tambwe Kabati.
December 13, 2021

On Friday 21 January, Koen De Bouw will not only kick off the first winter edition of the Ostend Film Festival, but also present his latest film Nowhere. Nowhere is directed and written by Peter Monsaert and stars Koen De Bouw (The Man Who Sold His Skin) and Noa Tambwe Kabati (wtFock, Welp). Sebastien Dewaele (Undercover, Eigen Kweek), Sofie Decleir (De Dag), Karlijn Sileghem (Home) and Ruth Becquart (Chaussée D'Amour) complete the cast. Director Peter Monsaert is extremely honoured that FFO has chosen Nowhere as its opening film: 
"In recent years, the festival has shown itself to be a firm supporter of Flemish film. To premiere at the Ostend Film Festival in front of so many true fans, together with my cast and crew and everyone who cares about the film, is a dream come true. After all, you make a film for an audience. As a maker, you hope to touch as many people as possible with what you have made. I am really looking forward to the moment when everyone can discover what we have worked on so hard. The fact that the Master of the festival, Koen De Bouw, gives a truly masterly performance makes it all the more wonderful. The chemistry between him and the young Noa Tambwe Kabati is fantastic. I can't wait to share that with the audience!"
At the festival Nowhere is part of the LOOK! competition, which focuses on visually strong stories. In the LOOK! competition, a professional international jury will be looking for the Best Film, in which the image lifts the story to a higher level in a striking or influential way.
"With Nowhere, we have chosen an opening film that tells a story that needs to be told. Koen De Bouw gives an excellent performance. Moreover, you can feel Monsaert's steady and strong hand in directing and editing and David Williamson proves once again what a fantastic D.O.P. he is"
Nowhere tells the story of ex-truck driver André (Koen De Bouw) who fills his days fixing up a remote job café. His routine existence is disrupted when he catches homeless teenager Thierry (Noa Tambwe Kabati) attempting a burglary. Strongly moved by his story, André takes him under his wing and they go in search of Thierry's family. During the road trip, not only does a special friendship grow, but also the realisation that they need each other to put the past to rest.
Watch the trailer.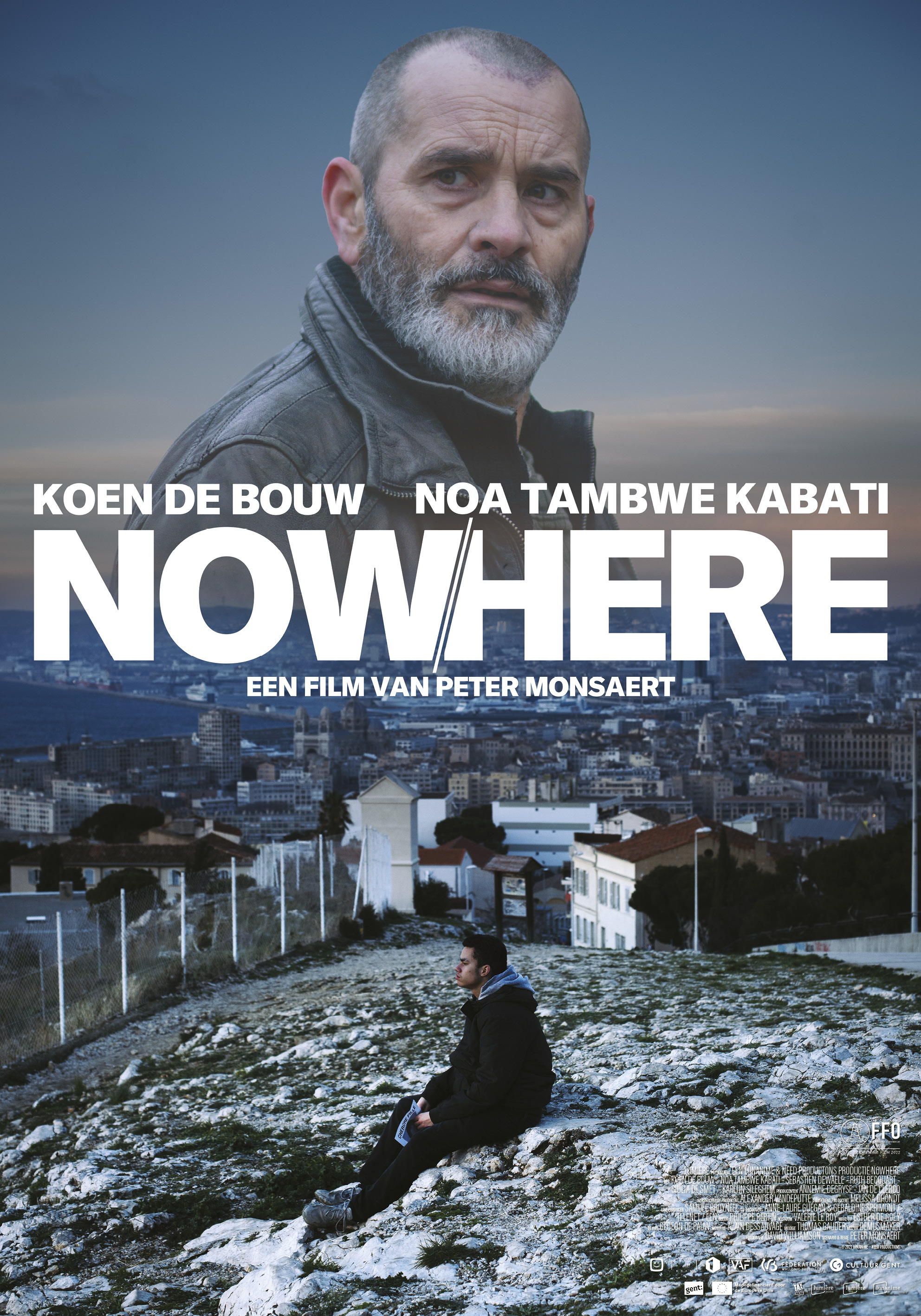 Nowhere is a production of Lunanime (producers Jan De Clercq and Annemie Degryse), in coproduction with Need Productions, Telenet and Eén. The film was made with the support of the Flemish Audiovisual Fund (VAF)/Film Fund of Flemish Minister of Culture Jan Jambon and of the Flemish government's emergency fund corona, Fédération Wallonie - Bruxelles, city of Ghent, Creative Europe Media, Lumière Invest and Lumière Publishing.
Lumière will release the film in Belgian cinemas on 9 February 2022.
---
Ostend Film Festival 2022
From 21 to 29 January 2022, visitors are not only welcome in Kinepolis Ostend for the avant-premières, but also in CC De Grote Post as our new permanent festival location. As is tradition, the festival week will be closed festively with the presentation of the Ensors, the Flemish film and television awards, on Saturday 29 January 2022. The new generation of content creators will also be honoured on Friday 28 January during the De Jamies award ceremony.
In close consultation with the festival locations, FFO will draw up a corona policy that will guarantee a safe festival visit. Changing government measures will be closely monitored, applied and adjusted where necessary.
The real film buffs can buy a festival pass at a very democratic rate. Until 1 January 2022, there is an early bird offer and you can buy the pass for 30 euros. As of January 1, the price for a festival pass will be 39 euros. People under the age of 26 pay 20 euros.
The full programme will be announced on 21 December 2021.
#FFO #FFO22 @filmfestivaloostende
Follow the Ostend Film Festival on Instagram - Facebook - Twitter - YouTube - TikTok